---
---
---
Reed Allan Larson
---
---
---
TIMELINE
---
Watertown Daily Times, Watertown, WI, Wednesday, February 14, 2007
Agriculture
Johnson Creek man designs inflations
Save costs, improves milk quality
By Gloria Hafemeister for the Daily Times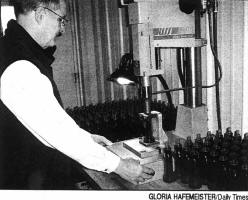 Reed Larson uses an ultrasonic welder to prevent pieces of the milking assembly from pulling apart. Parts also go through a 350 degree oven to burn off residue and meet regulations. All parts are government tested for formulation approval.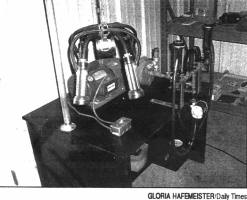 A milking unit, hanging on the left, shows how the inflations fit into the whole assembly. On the right side an inflation is placed on a tester that simulates the milking action. The tester runs 24 hours a day to see how long the inflation can be used before wearing out.
JOHNSON CREEK — Dairy producers are always looking for ways to fine-tune their operations — both to save costs and to improve cow health and milk quality.
A Johnson Creek innovator has developed something that will address both of these issues.
Reed Larson, is direct marketing some unique milking inflations to farmers who have found that they not only last longer, but they are easier on the cows.
An inflation is the part of the milking unit that fits around each teat on a cow's udder. Because inflations are made of a rubber product, they will wear out with use and break down with frequent washing.
Generally, dairy producers change the inflations in a milking unit after 1,200 milkings. Besides the cost of the new inflations it also costs time on the farm.
On a larger farm where there is a continuous flow of cows through the parlor and milking only stops long enough for the daily cleaning, a unit can be used up to 100 times a day. Reed suggests changing the inflation he has designed every 9,000 milkings, or every 90 days. Had that farm used standard inflations, the producer would have been changing them every 12 days.
But Reed said the durability of the inflations is only part of the story. Computerized records on the farms where his inflations are in use have shown that the new style inflation is also easier on the cow's teats and healthy udders and teat ends results in healthier cows and better quality milk.
He said manufacturing infla­tions is complex like an orchestra conductor working hard to get all the musicians and instruments to work in harmony with each other. In a milking machine, all parts — the materials, design, settings and maintenance — must work in synch.
Reed didn't grow up on a dairy farm. His only experience with dairy was visiting his grandfather's Waupaca county dairy farm. His actual background is in aviation electronics.
He explained that his mother's dad had a rubber manufacturing business, making things like seat cushions and rubber parts. Then his dad, Bill, got involved when his parents were married and eventually Reed and his brother, Leigh, took over the Johnson Creek rubber manufacturing plant. Reed's son later became involved in marketing.
"We made mostly dairy products like inflations and air tubes," he said. Between 1964 and 1998 they sold over 100 million inflations worldwide.
He said he eventually got burned out and tired of the 80-hour work weeks. That's when he decided to opt out. His brother decided to get out at the same time and they sold the company to Avon Hi-Life, a rubber manufacturing company that continued the business in Johnson Creek. His son got out at the same time and turned his hobby into brewing business in Lake Mills.
Recognizing that he was too young to retire, Reed explored his options. Then he began tinkering with ideas to improve on the product he had made so many years. From 1999 to 2004 he worked on the concept stage.
That included setting up a small machine shop at his home in order to develop the prototypes.
He related, "It's not simple making this thing. I needed the right compound to get the tooling to work with the molding press. I'd wake up in the night wondering how I could make this better. I'm not a machinist but I had to get the equipment to do the prototype work."
The resulting inflations that Larson now markets use half the amount of vacuum. He explained that's because there is very little space between the shell and the inflation.
The design makes them slightly lighter weight so vacuum level can be reduced without causing the units to fall off. He explained, "This is important because the higher the vacuum level the more sucking on the teat end."
He further explained, "When the other inflations collapse they pinch the teat. Mine implode. Three walls come in and cradle, rather than pinch, the teat. That makes them much gentler."
While most people think of rubber as a product originating from a tree, Larson said today most rubber products are synthetic or a combination of materials. Rubber breaks down from contact with ozone, body fat on the cow's teats, teat dip oils.
He uses a silicone rubber that is actually sand based. It doesn't get attacked by ozone and doesn't absorb cleaning solutions. It's not affected as much by body fats and teat dips.
While most milking units have stainless steel shells to hold the inflations, his special design includes a disposable clear plastic shell with the inflations. The milk tube is made of rubber that is reinforced to prevent cutting where it is connected. As a result, he recommends changing the tube at 3,000 and 6,000 milkings and then the whole unit (including air tube, shell and inflation) at 9,000 milkings.
He clarifies that many other companies also use the silicone material but they don't have the locking mechanism that contributes to the longer life and more gentle milking.
His inflations are on about 60 farms in the U.S. right now. All have found them to last longer and one farm is going beyond the 9,000 milking recommendation and getting 12,000 milkings before changing them.
Marketing has been done by word-of-mouth, either farmers talking with other farmers, or veterinarians who notice improve­ments in teat conditions. He said the farms that are using his inflations have reported a noticeable improvement in the condition of the teats.
The University of Wisconsin-Extension has monitored dairy herds throughout the state, look­ing for ways to improve milk quality and udder health. Six of the 10 farms monitored were in Jefferson County and the top scoring farm milking 530 cows used Larson's inflations.
Theoretically the pulsation rate could be altered when using these inflations, too, speeding milking without affecting udder health, but Larson said, "I don't make those recommendations. That's up to a veterinarian to look at."
---
John Andrew Poremba was born December 25, 1893, in Galicia, Austria, and died April 3, 1970, in Springfield, Hampden Co., MA, at age 76. He was the son of Unknown.
Anelia "Nellie" Gol was born June 11, 1894, in Galicia, Austria, and died September 24, 1974, in Huntington, Hampshire Co., MA, at age 80. She immigrated in 1911.
Peter Wasilich/Wacelitz was born June 14, 1875, in Galicia, Austria, and died February 13, 1964, Chicopee, MA, at age 88. He is the son of Unknown.
Eva Gol was born Unknown in Galicia, Austria, and died Unknown. She is the daughter of Unknown.
John Wacelitz was born March 26, 1919, in Chicopee Falls, MA, and died September 28, 2000, in Chicopee, Hampden Co., MA, at age 81. He was the son of Peter Wasylicz and Eva Gol.
---
The Sunday Republican, Springfield, Hampden Co., MA, Monday, October 1, 2000
John Wacelitz
John Wacelitz, 81, of this city, died Thursday at Mercy Hospital in Springfield. He worked for 42 years at the former Monsanto Corp. in the Indian Orchard Section of Springfield and retired in 1982. He was a lifelong resident of Chicopee. He was an Army veteran of War World II. He was a communicant of St. Patrick's Church and was a founding father of the Tiger's Athletic Association of Chicopee and a member of the American Legion Post 275. He leaves his wife of 59 years, the former Phyllis Poremba; four daughters, Joyce Larson of Watertown, Wisc., and Deerfield Beach, Fla.; Janet Jodoin of Chicopee, Judy Banach of Albany, N.Y., and Jayne Wacelitz of Indian Orchard; a brother, Peter "Skipper" of Spring Hill, Fla.; and five grandchildren. A private memorial service will be held at the convenience of the family. There are no calling hours. Cierpial Memorial Funeral Homes is in charge. Memorial contributions may be made to the Tiger's Youth Association, 14 Montgomery St., Chicopee, MA 01020.
---
The Sunday Republican, Springfield, Hampden Co., MA, Monday, October 23, 2006
Phyllis N. Wacelitz 1918 - 2006, CHICOPEE
Phyllis N. (Poremba) Wacelitz, 88, of Chicopee, surrounded by her loving daughters, died on Friday, October 20, 2006 at Mercy Medical Center in Springfield. She was born on June 19, 1918 in Indian Orchard and lived in Chicopee most of her life. Phyllis was the daughter of the late John and Anelia (Gol) Poremba. She was a communicant of St. Patrick's Church and a graduate of Commerce High School. Phyllis was a homemaker and raised her four daughters. She is predeceased by her husband, John Wacelitz, of fifty nine years, who died in 2000. She is survived by four daughters, Joyce Larson and her husband Reed of Watertown, Wisconsin, Janet Jodoin and her husband, Claude of Chicopee, Judy Banach and her husband, Bill of Albany, NY and Jayne Wacelitz of the Indian Orchard; five grandchildren, Rob Larson, Julie Larson, Jason Loveland and his wife, Amy, Adam Loveland and Eric Jodoin and two great grandchildren, Emma and Jake Loveland. We would like to thank the staff on the 5th floor respiratory unit at Mercy Medical Center for all their care and compassion to our mother and our family. In addition, we would also like to thank the pastoral care department for their spiritual support and guidance. There are no calling hours. A private funeral will be held from the Cierpial Memorial Funeral Home on 69 East St. in Chicopee Falls at a later date. In lieu of flowers, memorial contributions may be made to the March of Dimes, 2649A Carnegie Rd., York, PA 07402 or to the charity of one's choice. For online guestbook, please visit The Legacy.com. Cierpial Funeral Home 413 598-8573.
---
Peter Wasiliez (age 39) a F. Laborer, and his wife, Eva Wasiliez (age 35), departed December 13, 1913, from Cuxhaven aboard the S. S. President Grant, and arrived in the Port of New York on December 26, 1913. Their nationality was Austrian, Race or People was Ruthemian (Russniak). Their last permanent address was in Grodek, Austria. In Austria, their nearest relative or friend was Eva Walish in Grodek, listed as sister-in-law and sister. They cannot read or write.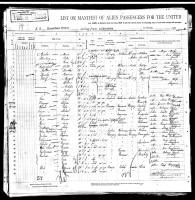 ---
Cuxhaven is a large independent town and seat of the Cuxhaven district, in Lower Saxony, Germany. It is situated on the shore of the North Sea at the mouth of the Elbe River. Cuxhaven has a footprint of 14 km (east-west) by 7 km (north-south). It is a popular vacation spot on the North Sea and home to about 52,000 residents. Cuxhaven is home to an important fisherman's wharf and ship registration point for Hamburg as well as the Kiel Canal. Tourism is also of great importance. The city long belonged to Hamburg. The Island of Neuwerk, a Hamburg dependency, is located just northwest of Cuxhaven in the North Sea. The city's symbol is a beacon or lighthouse; the wooden landmark on the mouth of the Elbe marks the boundary between the river and the North Sea and also adorns the city's coat of arms.
GALACIA (Ger. Galizien; Pol. Halicz), a crownland of Austria, bounded E. and N. by Russia, S. by Bukovina and Hungary, and W. by Austrian and Prussian Silesia. It has an area of 30,299 sq. m., and is the largest Austrian province. It comprises the old kingdoms of Galicia and Lodomeria, the duchies of Auschwitz and Zator, and the grand duchy of Cracow.
Galicia lies on the northern slopes of the Carpathians, which with their offshoots cover about a third of the whole area of the country. The surface gradually sinks down by undulating terraces to the valleys of the Vistula and Dniester. To the N. and E. of these rivers Galicia forms a continuation of the great plains of Russia, intersected only by a few hills, which descend from the plateaus of Poland and Podolia, and which attain in some places an altitude of 1300 to 1500 ft. The Carpathians, which, extending in the form of an arc, form the boundary between Galicia and Hungary, are divided into the West and the East Beskides, which are separated by the northern ramifications of the massif of the Tatra. The highest peaks are the Babia G6ra (5650 ft.), the Wolowiec (6773 ft.) and the Cserna Gora (6505 ft.). The principal passes are those of Zdjar over the Tatra, and of Dukla, Vereczke Korosmezo or Delatyn in the East Beskides. The river Vistula, which becomes navigable at Cracow, and forms afterwards the north-western frontier of Galicia, receives the Sola, the Skawa, the Raba, the Dunajec with its affluents the Poprad and the Biala, the Wisloka, the San and the Bug. The Dniester, which rises in the Carpathians, within the territory of Galicia, becomes navigable at Sambor, and receives on the right the Stryj, the Swica, the Lomnica and the Bystrzyca, and on the left the Lipa, the Strypa, the Sereth, and the Zbrucz, the boundary river towards Russia. The Pruth, which also rises in the Carpathians, within the territory of. Galicia, traverses its south-eastern corner and receives the Czeremosz, the boundary river towards Bukovina. There are few lakes in the country except mountain tarns; but considerable morasses exist about the Upper Dneister, the Vistula and the San, while the ponds or dams in the Podolian valleys are estimated to cover an area of over 200 sq. m. The most frequented mineral springs are the alkaline springs at Szczawnica and Krynica, the sulphur springs at Krzesowice, Szklo and Lubian, and the iodine springs at Iwonicz.
Exposed to the cold northern and north-eastern winds, and shut out by the Carpathians from the warm southerly winds, Galicia has the severest climate in Austria. It has long winters, with an abundant snowfall, short and wet springs, hot summers and long and steady autumns. The mean annual temperature at Lemberg is 46.2° F., and at Tarnopol only 43° F.
Of the total area 48.45% is occupied by arable land, 11.16% by meadows, 9-19% by pastures, 1.39% by gardens and 25.76% by forests. The soil is generally fertile, but agriculture is still backward. The principal products are barley, oats, rye, wheat, maize and leguminous plants. Galicia has the largest area under potatoes and legumes in the whole of Austria, and hemp, flax, tobacco and hops are of considerable importance. The principal mineral products are salt, coal and petroleum. Salt is extracted at Wieliczka, Bochnia, Bolechow, Dolina, Kalusz and Kosow. Coals are found in the Cracow district at Jaworzno, at Siersza near Trzebinia and at Dabrowa. Some of the richest petroleum fields in Europe are spread in the region of the Carpathians, and are worked at Boryslaw and Schodnica near Drohobycz, Bobrka and Potok near Krosno, Sloboda-Rungurska near Kolomea, &c. Great quantities of ozocerite are also extracted in the petroliferous region of the Carpathians. Other mineral products are zinc, extracted at Trzebionka and Wodna in the Cracow region, amounting to 40% of the total zinc production in Austria, iron ore, marble and various stones for construction. The sulphur mines of Swoszowice near Cracow, which had been worked since 1598, were abandoned in 1884.
The manufacturing industries of Galicia are not highly developed. The first place is occupied by the distilleries, whose output amounts to nearly 40% of the total production of spirits in Austria. Then follow the petroleum refineries and kindred industries, saw-mills and the fabrication of various wood articles, paper and milling. The sugar factory at Tlumacz and the tobacco factory at Winniki are amongst the largest establishments of their kind in Austria. Cloth manufacture is concentrated at Biala, while the weaving of linen and of woollens is pursued as a household industry, the former in the Carpathian region, the latter in eastern Galicia. The commerce, which is mainly in the hands of the Jews, is very active, and the transit trade to Russia and to the East is also of considerable importance.
Galicia had in 1900 a population of 7,295,538, which is equivalent to 241 inhabitants per sq. m. The two principal nationalities are the Poles (45%) and the Ruthenians (42%), the former predominating in the west and in the big towns, and the latter in the east. The Poles who inhabit the Carpathians are distinguished as Goralians (from gory, mountain), and those of the lower regions as Mazures and Cracoviaks. The Ruthenian highlanders bear the name of Huzulians. The Poles are mostly Roman Catholics, the Ruthenians are Greek Catholics, and there are over 770,000 Jews, and about 2500 Armenians, who are Catholics and stand under the jurisdiction of an Armenian archbishop at Lemberg.
The Roman Catholic Church has an archbishop, at Lemberg, and,three bishops, at Cracow, at Przemysl and at Tarnow, and the Greek Catholic Church is represented by an archbishop, at Lemberg, and two bishops, at Przemysl and at Stanislau. At the head of the educational institutions stand the two universities of Lemberg and Cracow, and the Polish academy of science at Cracow.
The local Diet is composed of 151 members, including the 3 archbishops, the 5 bishops, and the 2 rectors of the universities, and Galicia sends 78 deputies to the Reichsrat at Vienna. For administrative purposes, the province is divided into 78 districts and 2 autonomous municipalities - Lemberg (pop. 159,618), the capital, and Cracow (91,310). Other principal towns are: Przemysl (46,439), Kolomea (34,188), Tarnow (31,548), Tarnopol (30,368), Stanislau (29,628), Stryj (23,673), Jaroslau (22,614), Drohobycz (19,146), Podg6rze (18,142), Brody (17,360), Sambor (17,027), Neusandec (15,724),Rzeszow (14,714), Zloczow(12,209), Grodek (11,845), Horodenka (11,615), Buczacz (11,504), Sniatyn (11,498), Brzezany (11,244), Kuty (11,127), Boryslaw (10,671), Chrzan6w (10,170), Jaworow (10,090), Bochnia (10,049) and Biala (8265).
Galicia (or Halicz) took its rise, along with the neighbouring principality of Lodomeria (or Vladimir), in the course of the 12th century - the seat of the ruling dynasty being Halicz or Halitch. Disputes between the Galician and Lodomerian houses led to the interference of the king of Hungary, Bela III., who in 1190 assumed the title of king, and appointed his son Andreas lieutenant of the kingdom. Polish assistance, however, enabled Vladimir, the former possessor, to expel Andreas, and in 1198 Roman, prince of Lodomeria, made himself master of Galicia also. On his death in 1205 the struggle between Poland and Hungary for supremacy in the country was resumed; but in 1215 it was arranged that Daniel (1205-1264), son of Roman, should be invested with Lodomeria, and Coloman, son of the Hungarian king, with Galicia. Coloman, however, was expelled by Mstislav of Novgorod; and in his turn Andreas, Mstislav's nominee, was expelled by Daniel of Lodomeria, a powerful prince, who by a flexible policy succeeded in maintaining his position. Though in 1235 he had recognized the overlordship of Hungary, yet, when he found himself hard pressed by the Mongolian general Batu, he called in the assistance of Innocent IV., and accepted the crown of Galicia from the hands of a papal legate; and again, when Innocent disappointed his expectation, he returned to his former connexion with the Greek Church. On the extinction of his line in 13 4 0 Casimir III. of Poland incorporated Galicia and Lemberg; on Casimir's death in 1370 Louis the Great of Hungary, in accordance with previous treaties, became king of Poland, Galicia and Lodomeria; and in 1382, by the marriage of Louis's daughter with Ladislaus II., Galicia, which he had regarded as part of his Hungarian rather than of his Polish possessions, became definitively assigned to Poland. On the first partition of Poland, in 1772, the kingdom of Galicia and Lodomeria came to Austria, and to this was added the district of New or West Galicia in 1795; but at the peace of Vienna in 1809 West Galicia and Cracow were surrendered to the grand-duchy of Warsaw, and in 1810 part of East Galicia, including Tarnopol, was made over to Russia. This latter portion was recovered by Austria at the peace of Paris (1814), and the former came back on the suppression of the independent republic of Cracow in 1846. After the introduction of the constitution of February 1861, Galicia gained a larger degree of autonomy than any other province in the Austrian empire.
---
The WWI Draft Registration Report dated June 5, 1917, shows John Poremba (age 22) born December 25, 1895, in Austria, Poland, is a Clerk for Grocery Meat Store and is living at 79 Main St., Springfield, Hampden Co., MA. He has a wife and child.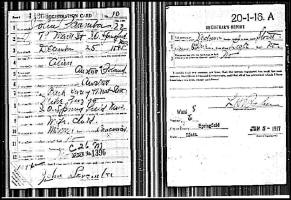 ---
The WWI Draft Registration Report dated September 12, 1918, shows Peter Wasylicz (age 43) born June 14, 1875, in Austria is a Calxxx for Fisk Rubber Co. and is living at 22 Sheridan St., Chicopee, Hampden Co., MA. His nearest relative is Eva Wasylicz of 22 Sheridan.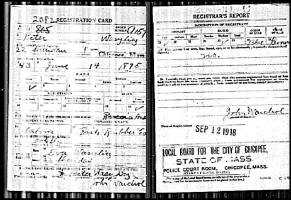 ---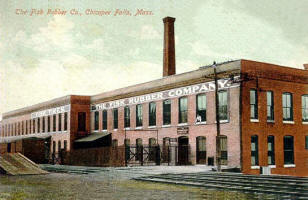 ---
The 1920 U. S. Census taken on January 8, 1920, shows Peter Wazylec (age 44) born in Galicia to Galician-born parents and having emigrated in 1914 with Al citizenship is a Mill Mixer at an Auto Tire Company who owns his home with a mortgage and is living at 22 Sheridan Street, 6th Ward, City of Chicopee, Hampden Co., MA. Living with him is his wife, Eva Wazylec (age 40) born in Galicia to Galician-born parents and having emigrated in 1914 with Al citizenship. Also living there is his son, John Wazylec (age 9/12) born in Massachusetts to Galician-born parents.
The 1920 U. S. Census taken on January 24, 1920, shows John Poremba (age 25) born in Poland to Polish-born parents and having emigrated in 1908 with Al citizenship is a Tire Maker in a Rubber Mill and renting his home at 9 Lyons Street, 8th Ward, City of Springfield, Hampden Co., MA. Living with him is his wife, Aniello Poremba (age 21) born in Poland to Polish-born parents and having emigrated in 1911 and applied for citizenship. Also living there are his three daughters, all born in Massachusetts to Polish-born parents: Jaimie Poremba (age 4-5/12); Tiloma Poremba (age 2-6/12); and Albina Poremba (age 7/12). Four boarders also live in that household.
The 1930 U. S. Census taken on April 8, 1930, shows Peter Wasilich (age 55) born in Poland to Polish-born parents and having emigrated in 1913 with Pa citizenship and first married at age 20 is a Yard Man in a Rubber Shop who owns his home worth $2,800 and is living at 20 Sheridan Street, 6th Ward, City of Chicopee, Hampden Co., MA. Living with him is his wife, Eva Wasilich (age 55) born in Poland to Polish-born parents and having emigrated in 1913 with Al citizenship and first married at age 20. Also living there are his two children, both born in Massachusetts to Polish-born parents: John Wasilich (age 11); and Peter Wasilich Jr. (age 10).
The 1930 U. S. Census taken on April 4, 1930, shows John Porenda (age 34) born in Poland to Polish-born parents and having emigrated in 1909 and a Naturalized citizen and first married at age 18 is a Meat Salesman owning his home worth $5,000 and is living at 162 Center Street, 8th Ward, City of Springfield, Hampden Co., MA. Living with him is his wife, Nellie Porenda (age 34) born in Poland to Polish-born parents and having emigrated in 1911 and a Naturalized citizen and first married at age 18. Also living there are his four children, all born in Massachusetts to Polish-born parents: Jane N. Porenda (age 14); Philomina Porenda (age 12); Albine Porenda (age 10); and Edward Porenda (age 8). Another family of two rents their home at this same address.