---
---
---
Gustav Alfred "Fred" Johnson was born November 4, 1870, in Sweden, and died November 16, 1950, in Waupaca, Waupaca Co., WI, at age 80. Buried in Salem (Old Swede) Cemetery, Farmington Twp., Waupaca Co., WI. He is the son of Johan Emanuel Ericsson of Krogsered Parish, Sweden, and Anna Christina Nilsdotter of Ljungby Parieh, Sweden.
Emilia Sophia "Emily" Larson was born December 22, 1875, Grove Station, Marysville, Yuba Co., CA, and died Sunday, August 6, 1905, in Sheridan, Farmington Twp., Waupaca Co, WI, at age 29. Buried in Salem (Old Swede) Cemetery, Farmington Twp., Waupaca Co., WI. She is the daughter of Olaus Larsson of Fröbbestorp, Torsas, Kalmar Co., Småland, Sweden, and Catarina Olivia Wilhelmina Larsdotter of Varna Parish, Östergőtland Co., Sweden.
Alfred Gustav "Fred" Johnson and Emilia Sophia "Emily" Larson were married October 24, 1894, at Salem Lutheran Church, Farmington Twp., Waupaca Co., WI.
Alfred Gustav "Fred" Johnson and Emilia Sophia "Emily" (Larson) Johnson had five children, four of whom died in infancy:
Child 1: Born 1895-1900; Died before 1900 (age Stillborn Infant). Buried in Salem (Old Swede) Cemetery, Farmington Twp., Waupaca Co., WI.
Child 2: Born 1895-1900; Died 1900-1910 (age Unknown). Buried in Salem (Old Swede) Cemetery, Farmington Twp., Waupaca Co., WI.
Cora Ethel Olivia Johnson: Born October 7, 1900, in Farmington Twp., Waupaca Co., WI; Died November 22, 1970, in Waupaca, Waupaca Co., WI (age 70). Buried in West Akers Lutheran Church Cemetery, Ridgeland, Dunn Co., WI. Married after 1930 to John Johnson: Born Unknown; Died Unknown. Note: John Johnson deserted Cora.
Child 4: Born 1901-1909; Died 1901-1909 (age Stillborn Infant).
Alfred M. Johnson: Born August 6, 1905, in Farmington Twp., Waupaca Co., WI; Died August 6, 1905, in Farmington Twp., Waupaca Co., WI (age Infant).
---
---
---
TIMELINE
---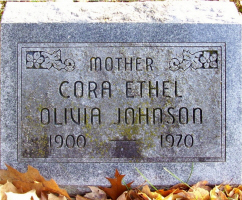 Cora Ethel Olivia (Johnson) Johnson is buried in West Akers Cemetery, Ridgeland, Dunn Co., WI. Thanks to Find-A-Grave for making this image available.
---
Gustav Alfred "Fred" Johnson was born November 4, 1870, in Sweden.
Emilia Sophia "Emily" Larson was born December 22, 1875, Marysville, Yuba Co., CA.
The 1880 U. S. Census taken on June 10, 1880, shows Olaus Larson (age 29) born in Sweden to Swedish-born parents is a Laborer and is living in South Putah, Yolo Co., CA. Living with him is his wife, Catrina O. Larson (age 31) born in Sweden to Swedish-born parents, who is Keeping House. Also living there are his children, both born in California to Swedish-born parents: Emily S. Larson (age 4); and Oscar A. Larson (age 1). Three Laborers are also living in the household.
Alfred Gustav "Fred" Johnson and Emilia Sophia "Emily" Larson were married October 24, 1894, at Salem Lutheran Church, Farmington Twp., Waupaca Co., WI.
The 1895 Wisconsin State Census taken on June 20, 1895, shows F. Johnson is the head of household and is living in Farmington Twp., Waupaca Co., WI. There are 1 Male and 1 Female living there, both born in Scandinavia.
The 1900 U. S. Census taken on June 13, 1900, shows Fred Johnson (age 29) born November 1870 in Sweden to Swedish parents and emigrating from Sweden in 1889 is a farm renter living in Farmington Twp., Waupaca Co., WI. Living with him is his wife of five years, Emila S. Johnson (age 24) born December 1875 in California to Swedish-born parents. One of her two children is alive, but is not in the household. There is also a widowed boarder, John Olson (age 72) living in the house.
The 1905 Wisconsin State Census taken on June 1, 1905, shows Alfred E. Johnson (age 35) born in Sweden to Swedish-born parents is a Farmer renting his farm and living in Farmington Twp., Waupaca Co., WI. Living with him is his wife, Emiley Johnson (age 29) born in California to Swedish-born parents, who does Housekeeping. Also living there is Alfred's daughter, Cora Johnson (age 4) born in Wisconsin to Swedish and California-born parents. A Swedish Servant, Ellen Peterson (age 12) who does Housework also lives in the household. Also living there is August Larson (age 24) an unmarried Farm Laborer born in Sweden to Swedish-born parents.
Emilia Sophia "Emily" (Larson) Johnson died August 6, 1905, in Sheridan, Farmington Twp., Waupaca Co, WI, at age 29.
The 1910 U. S. Census taken on April 29, 1910, shows Alfred G. Johnson (age 39) is a farm renter widower living in Farmington Twp., Waupaca Co., WI emigrating from Sweden in 1889 with Naturalized citizenship. Living with him is his daughter, Cora Johnson (age 9) born in Wisconsin. Also there was P. August Larson (age 29), an unmarried farm laborer servant that had emigrated from Sweden in 1901 with PA naturalization. He was the son of Magnus Larsson. Another servant and a boarder are also in the household.
The 1920 U. S. Census taken on February 10, 1920, shows Alfred G. Johnson (age 49) born in Sweden to Swedish-born parents is a farm owner widower living in New Haven Twp., Dunn Co., WI emigrating from Sweden in 1889 with Naturalized citizenship about 1900. Living with him is his unmarried daughter, Cora E. Johnson (age 19) born in Wisconsin. A boarder is also in the Johnson household. P. August Larson (age 39), unmarried, was a farm owner living on the farm next to that of Alfred and had emigrated from Sweden in 1901 with PA naturalization.
The 1930 U. S. Census taken on April 14, 1930, shows Gustav A. Johnson (age 59) born in Sweden to Swedish-born parents, and having first married at age 25, is a widower General Farm Farmer, and who owns his farm, and is living in New Haven Twp., Dunn Co., WI. Living with him are: his unmarried daughter, Cora O. Johnson (age 29) born in Wisconsin to Swedish-born parents; and an unmarried Lodger Laborer, John Medutt (age 17) born in Illinois to Czechoslovakian-born parents.
Bertram Alfred Johnson was born December 6, 1936, in Wisconsin. Donna Carlene Unknown was born December 15, 1941, in Unknown. Brady Gene Johnson (born January 21, 1967, in Tacoma, Pierce Co., WA) and Elizabeth P. Fonoti (born May 2, 1965) were married May 10, 1997, in King Co., WA; Brady Gene Johnson and Meghan A. Murray were married September 24, 2013, in Yakima Co., WA ; Boyd Allen Johnson (born January 21, 1967, in Tacoma, Pierce Co., WA, and died April 15, 2002, in Unknown) and Donna C. Johnson; . Brooks H. Robins and Annette L. Johnson (born June 7, 1965) were married April 24, 1987, in Pierce Co., WA, and divorced January 13, 2010, in King Co., WA;
Joan Johnson was born December 6, 1938, in Wisconsin.
The 1940 U. S. Census taken on April 16, 1940, shows Gustav Johnson (age 69) born in Sweden and a Naturalized Citizen, and 5 years ago was living in the Same House, and with 8 years of School, is a widowed Farmer of a Farm who owns his farm worth $600 and is living in New Haven Twp., Dunn Co., WI. Living with him are: his married daughter, Cora Johnson (age 39) born in Wisconsin, and 5 years ago was living in the Same House, and with 8 years of School; his grandson, Bertram Johnson (age 3) born in Wisconsin; and his granddaughter, Joan Johnson (age 3) born in Wisconsin.
Alfred Gustav "Fred" Johnson died November 16, 1950, in Waupaca, Waupaca Co., WI, at age 80.
Donna Carlene Unknown was born December 15, 1941, in Unknown.
---
The Appleton Post-Crescent, Appleton, Outagamie Co., WI, November 27, 1958
Red Cross Rushes Army Man Home From Germany
Waupaca - In 24 hours, a Waupaca serviceman was contacted in Germany, packed his grips and was home in Waupaca because of the services of the Red Cross Home Service Officer, Mrs. Dell Ward. The serviceman is Specialist Bertram Johnson who was contacted by the service officer and advised to return home because of the illness of his mother, Mrs. Cora Johnson. He was contacted in Stuttgart, Germany, by his commanding officer, who arranged a 30-day furlough and plane transportation. Bertram's mother has recovered and the soldier returned to his post in Germany this week.
---
Cora Ethyl Olivia (Johnson) Johnson died November 30, 1970, in Waupaca, Waupaca Co., WI, at age 70. Buried in West Akers Cemetery, Ridgeland, Dunn Co., WI.
Most of the family members are buried in Salem (Swede) Cemetery, Farmington Twp., Waupaca Co., WI.
---
FREEDA LARSON'S AUTOBIOGRAPHY
PART I – THE LARSON SAGA
(Written in 1973)
(Edited in 2002 by her son, Gordon Lewis)
There is a legend that goes back many years, to the early 19th century. The story began in Sweden, with my great-grandmother. In those days, it was not uncommon for a farmer's daughter to be a milk-maid at one the nearby castles of royalty. So, Gustava was hired as a milk-maid by the resident of a castle near her home. She was a beautiful, flaxen-haired young lady, and was greatly admired by a young son of the royal family.
This admiration soon developed into affection, and they began having clandestine meetings. Now, no person of royal blood should ever marry a farmer's daughter. However, these two young folks, like many today, decided they wanted to get married anyway, so they went to a clergy in a neighboring village and were secretly wed.
When this marriage was announced to the royal family, the son was banished to America, and Gustava, now pregnant, returned to her family to await the birth of her little babe. Lars sailed for America, promising to send for her as soon as he was established. It was never learned whether he reached the promised land. No trace was ever found, and Gustava and her baby remained in Sweden.
A little girl was born, and she was named for mother, Gustava Wilhelmina. As was customary in those days, the female child's last name took the first name of her father and added "dotter," so she was christened Gustava Wilhelmina Larsdotter.
Years passed, and the next we learn is that Gustava married a Lars Fredrick Nilsson, and this union was blessed with six children – four daughters and two sons. My mother – Catherine Olivia Wilhelmina, the eldest, was born January 25,1848. Then followed Mathilda, September 17, 1851; Andrew Frederick, November 30, 1853; Carl, August 16, 1856; and the twins Sophia and Amanda, April 1, 1862. Actually, Sophia was born just before midnight on March 31st, and Amanda after midnight on April 1st.
The Nilsson family grew up in Sweden but, as the years went by, they one by one emigrated to the New World. The girls then changed their last names to Larson, but it was a different story for the boys. It was permissible for a young man to change his name as he came of age. Since the family had lived on the Dahla estate [see Olivia Larson's Biography], Andrew took on the name of Andrew Dahlquist, and Carl (or Charles, as he later preferred) became Charles Dahlberg.
My mother Olivia, as she preferred being called, came to the U.S. in 1873 as a governess for two young boys in a family that settled in Marquette, Michigan. It was there that she met my father, Olaus Larson, who had come from Sweden in 1872. On May 13, 1874, they were married in Marquette.
In 1875, there was a money shortage in Michigan. Father said the laborers were paid off with purchase orders good at the company store. Not happy with that arrangement, he corresponded with his brother Erik, who was working in California and said that times were good out there. So, Father left Mother, who was expecting a child, and went to California. He hired out to a company of loggers operating on a ranch in the foothills some distance north of Sacramento. Mother then followed him to California. It took thirteen days to make the trip. There were no dining nor sleeping cars, so hammocks were hung for sleeping, and stops were made at stations along the way to purchase food. Because of fear of Indians and robbers attacking the train, Olivia had a money belt around her waist under her clothes in which she had $500 in gold.
Olaus – hereafter referred to as Dad - was the foreman of the ranch, and Mother was in charge of the ranch household. The owners lived in the town of Marysville which, at that time, was a very small place. Language proved a major hardship, since most of the men and women they had to deal with spoke only Spanish, and neither Dad nor Mother could speak English very well.
Emily Sophia was born December 22, 1875 – with a mid-wife in attendance - and two years later Carl Emil blessed their lives. Soon after Emil's arrival, Mother was taken ill. The doctor said she would have to go to a higher climate, so she went up in the mountains for a while, but it became apparent that life in California was unsatisfactory in many ways.
In the meantime, Dad's brother Gustav had come to America, and had settled in Waupaca, Wisconsin, and Mother now had a brother who had settled in St. Paul, Minnesota. Since Mother and Dad had been advised to seek a colder climate, they decided to leave California and visit these two relatives before settling on a place to live. In 1880, with their two children, they started the long trip east, the first stop being Waupaca.
Their plans were to spend a short time in Waupaca, then go on to St. Paul, where there was a large Swedish settlement. But they never made it to St. Paul. They ended up purchasing an eighty-acre farm three miles west of Waupaca. The farm had only fifteen acres under cultivation, a small frame two-story house about 14 feet by 20 feet, and a 12-foot by 12-foot shack. Mother and Dad occupied this shack through the winter of 1880-1881, because the purchase agreement permitted the current residents to occupy the house until April 1st. The next child, Arthur David, was born in this shack in January 1881.
The Larson family continued to grow in numbers as the years went by. Edith Christina was born February 8, 1883; Almo Joshua, June 28, 1885; Walter Emmanuel, June 6, 1888; and Freeda Wilhelmina, September 30, 1891. We were a very close, Christian family. Each of us, as we grew up, was assigned certain duties to helping the farming and household activities. Farming was very difficult, as more and more of the land had to be cleared of trees and stones before it could be tilled for crops. Potatoes were the cash crop, but corn, wheat, and oats had to be planted to feed the livestock through the long winter seasons. Wheat was also taken to the mill and ground into flour for home use.
The farm buildings were not adequate for the growing family, so in 1890 a major addition to the house was built. Dad's brother Gus Lewis (he had changed his name from Larson to Lewis because there were too many Larsons around) was a carpenter, so he assisted in the planning and building. The addition provided large living and dining rooms, a large kitchen, and a bedroom downstairs; a large dormitory bedroom upstairs; and a cellar under all for storage of fruits, vegetables, and the potato crop. The original part of the house provided a parlor-bedroom downstairs, and two bedrooms on the second floor. This gave more privacy as to bedrooms, but they were still mighty cold in winter, as there was no central heat.
I was born in the "new" bedroom. A good neighbor, Mrs. Johnson, came in to help with my arrival, as Emily was only 16, and Edith 8. When Dr. Sanders arrived, he expressed concern to Mother and Dad that I might not live, since I went through a series of convulsions. But I fooled them all, and here I am – 82 years old – to tell the tale.
All was not easy going for the Larson family. In the Fall of 1892, Mother was stricken with rheumatic fever, and was bed-ridden for several months. Dad had a niece, Christina Larson, in New York, who was a practical nurse. She came and cared for Mother until she was able to be up and about. However, this illness left Mother with a heart condition from which she never fully recovered.
Other troubles beset the home. Emil was stricken ill early in the summer of 1892. The first death in the family came in July when Emil – age 14 – was laid to rest in a little cemetery adjoining Salem Lutheran Church. The loss of this son, who had been the delight of the family, was devastating. He had aspirations of going into the ministry, as he was deeply religious and felt that was his calling.
Time marched on, and now Emily had a suitor. She was a beautiful, auburn-haired, brown-eyed girl, with a complexion like peaches and cream. She was greatly admired in the community, not only for her beauty, but also for her talent in voice and organ music. (We had a foot-pedal-pumped organ in the house on which Mother played, and she taught her girls to play, including me.) On October 24, 1894, Emily was married to G. Alfred Johnson – hereafter referred to as Fred – in a very lovely service in the Salem Lutheran church. The Reverend Dr. Lindholm performed the ceremony, with a reception following in the family home.
Each of the children started schooling in the little Farmington one-room schoolhouse. As Arthur and then Almo became ready for high school, they had to go into Waupaca each day. During the summer months, we were all busy with our chores. Edith and I had our assignments helping Mother; the boys were busy in the fields with Dad. In fact, in April, 1899, Dad added to the farm with a homestead claim on a nearby forty acres that were still "public land."
Toward the end of the decade, Edith took a course in dressmaking with a Mrs. Hanson in Waupaca, and stayed with her while learning. Walter and I were now the only ones attending the Farmington school.
While Edith was in town, she met a young man who had just returned from the Spanish-American War – Clarence C. Nelson, from Rockford, Illinois. Clarence was working on the farm of Mr. And Mrs. John Erickson. He became very attentive, and they soon avowed to get married, although Edith was only 16 years old. Mother and Dad were very opposed to an early marriage, but a proposition by Clarence's uncle, Reverend Rosander, our minister, provided a resolution. He had a farm in Prentice, Wisconsin – about 75 miles from Waupaca – needed a couple to run the farm, and offered this opportunity to Clarence and Edith. On Easter Sunday, April 15, 1900, they were married in Salem Lutheran Church, with a reception at the house. I can well remember the day – great excitement - but some of the family still felt disturbed about the marriage. Fred chose not to attend the wedding, but Emily did.
Arthur was now ready for more advanced education, and wanted to take a course in agriculture. The University of Wisconsin offered a short, two-year course; in 1902, Arthur went to Madison for his first year. It was also that same year that Mother and Dad felt they could afford to move the original section of the house to another part of the place, and to have a new ell built on the dining room part.
Again, Dad's brother Gus was called on to help design and build the new addition – a parlor, living room, and bedroom downstairs; and three bedrooms upstairs – all with central heating. What a joy that was in the long, cold, winter days! I now had my own room, and Mother had braided the prettiest green and white rug for the floor, and dainty white ruffled curtains for the window. And how happy Mother was to have a pretty, larger bedroom, with double doors into the living room, and also a door to the dining room. The old bedroom off the dining room was made into a large pantry and storeroom. Over the winter, Mother had woven large rag rugs for both the living room and bedroom, and commercial carpet was laid on the parlor floor.
For several years, times had been quite good so, from the sale of potatoes and dairy products, the family finances had prospered. Not only was the new section of the house built, but also a large barn. In those days, one did mortgage one's house, but only built as one could pay for the labor and materials.
When Edith and Clarence were married, Clarence's sister Norma came from Rockford to be one of Edith's bridesmaids. We all fell in love with Norma, and Arthur was really smitten. Norma was a school teacher in Rockford, and Arthur would go to Rockford from Madison whenever he could. At first, Norma did not encourage him, as she didn't want to be a farmer's wife. But Arthur persisted, and on April 6, 1904, they were married in Rockford. (By this time, Clarence and Edith had moved to Rockford.) Arthur finished his two-year course at Madison, and was now ready to "go to farming." He rented a small farm about 1 1/2 miles from the home place, and it was there that he and Norma settled for a time.
In the meantime, Almo was completing his high school work, and graduated in June 1904, and Walter and I were now attending school in Waupaca. During the first half of the year, Mother had not been feeling well, such that she was not able to go to Rockford for the wedding. She did go to Walter's graduation, but soon thereafter, she had a severe heart attack. Walter also was not well so, in January 1905, he had to be taken out of school with pleurisy and threatened tuberculosis. That same month, Mother – who was feeling much better – was summoned to Rockford, where Edith and Clarence were now living. Edith was expecting her third child, and Clarence was leaving for South Dakota to claim a homestead on the Rosebud Indian Reservation. When the baby was only a few weeks old, Mother came home, bringing Edith and three little children with her – Myrtle, Hazel, and Paul. It seemed the bottom fell out for a while.
Almo had entered the University of Wisconsin, and I was now the only one going to the Waupaca school. At times, when the snow was deep and the temperature below zero, I would drive with horse and cutter, or Dad would take me in. Somehow I made it till Spring when I could ride my bicycle. Mother stayed busy nursing Walter back to health, as well as tending to Edith and her family.
It never rains but what it pours. It seemed that troubles never ceased. Emily was pregnant with her second child, and doctors had cautioned that she could have serious complications with a kidney infection. On Sunday, August 5, 1905, Emily and the unborn baby passed away. Nothing the doctor and nurse could do to control eclampsia. This was a terrible blow to Mother, whose health was very precarious at the time. She made the remark, "I will be gone within the year; it is just too much to bear." Mother and Dad brought Emily's little five-year old daughter, Cora, to live with us for a while.
In September, Clarence sent for Edith and the children, saying he had a home for them. This home turned out to be a sod-house, but it was warm and did afford shelter for the family during that winter, and until a one-room house could be built.
All this was too much for Mother. She became bed-ridden a great deal of the time for the next several months. But the family carried on as best it could. Walter returned to high school, and I was finishing the elementary grades. Early Spring and Summer looked more promising, and we had great hopes that Mother would benefit from complete rest. The household was running smoothly, we had excellent help, and every one was well and happy. I should mention again that the family was very closely tied to the church, and was strong in its faith. In the Spring of 1906, I was confirmed at the Salem Lutheran Church, taking my vows in the Swedish language – which had continued to be used often around the house.
But then disaster struck. Two of Mother's nieces from Chicago came for a visit to the farm in the summer of 1906. On a Saturday afternoon, Mother said she would take a walk in the garden. The raspberries and blackberries were hanging ripe on the bushes, and all of the vegetables looked so good to her. But this proved to be her last walk. The night of August 3rd, she had a massive stroke, and passed to her final reward on Tuesday, August 6th. This was a terrible blow to the Larson family. It seemed that the whole world had dropped away – and where would we go from there? But the Master of us all walked into our lives, and we all knew and felt that Mother was at rest – and that she had joined my sister Emily and brother Emil. She was laid to rest in the family plot on the grounds of the Salem Lutheran church.
A strange incident happened in connection with the funeral. A few years previously, Mother was given a baby Mastiff dog. Its mother had died when the puppy was only a few days old, so the owner – a neighbor – had two little motherless puppies. At the time, Walter and I were about 13 and 9 years old, respectively. Mother thought a little puppy would be a great playmate for us. Because the little fellow was so young, he had to be bottle fed and cared for very carefully – it was in the dead of winter, cold and snowy. We named him Sport. He was such a roly-poly, fluffy white with a few brown spots. In time he grew up to be a large, beautiful dog – but a "one-person dog." Because Mother had fed him and cuddled him when he was a baby, he felt that he owed his life to her, and he became her constant companion. Of course, Cora was living with us at this time, and for a while, Sport was terribly jealous when Mother showed too much love and affection for Cora. However, as time went on, Sport realized that Cora was a permanent part of the household, so he accepted her and even looked out for her.
During the final summer that Mother lived, Sport felt more and more that he should protect Mother from anyone outside the family. He slept on the porch outside her bedroom every night, and was a real watch-dog for her. When Mother passed away, Sport knew something had happened – he would not eat and stayed outside her door day and night until the day of the funeral. He would let no one up on the porch outside her room.
As the funeral procession left the house for the cemetery at the Salem Lutheran Church, Sport walked beside the horse-drawn hearse all the way. When we entered the church, he remained on the steps outside until the service was over. Then he followed the casket to the grave-site. When all was over, Almo and Walter put Sport in the family carriage and took him home with us. About an hour later, someone asked, "Where is Sport?" He was gone. The boys drove back to the cemetery – about a mile and a half – and there was Sport lying beside Mother's grave. He was brought home again, but to no avail – he would not stay. In the meantime, Cora had gone to live with her father and an aunt, about seven miles from our home.
Early one morning, about a week later, I received a phone call from my brother-in-law Fred, Cora's father. He asked, "Freeda, do you know where Sport is?" "No." "Well, I heard a whine on the porch early this morning, and there stood Sport, all wet and cold, and wanting to come in. Cora heard us and came running from her room, and what a reunion of a little five-year old girl and a dripping wet dog."
The strange thing of it all was that Sport had never been to Cora's home. He had to swim a river and cross many fields, but he found his new mistress, and that was what he wanted. Sport lived to be 22 years old, and he stayed close to Cora and remained faithful to her all those years.
September came, and it was time to start school again. Almo went back to the University of Wisconsin, and Walter was a senior at Waupaca High School. I should have started high school, but there was no help available, and no one to take over running the household. So it was up to me. I had my 15th birthday that year, and I had no choice but to stay out of school. It was a terrific undertaking for me – no one knows what is involved in running a farm home unless she has had to do it herself. We had a large garden, with lots of fruits and vegetables, plus all the dairy implements and milk and cream to care for.
The silo fillers came for two days, and the neighbor men came to cut and haul the corn to the cutting machine. In all, there were 15 men to be fed noon-day dinner and afternoon coffee. Those dinners were no small matter, as the men worked hard and were hungry. Bread had to be baked, pies and cookies made, huge quantities of meat roasted, and lots of vegetables cooked. Fortunately, I did get lots of help from my sister-in-law Norma. And a boy who worked for George Madsen in the summer and in a bakery in Waupaca during the winter months came in and did all the bread and pastry cooking. Those two were a big help to me.
Then came potato-digging time. Dad went to town and got several men – "tramps," we called them – to come out and help. They had to be fed and given a place to sleep. Fortunately, we had the large room over the dining room, with a back stairway leading up to it, that served as their dormitory. Luckily, we had no bad incidents with these complete strangers.
But we did have one unusual occurrence. One of the men Dad had hired was a very fine looking young man, well-bred and mannerly. It was quite unusual to get someone like that off the street. One rainy day, he stayed on the porch reading, so my curiosity got the best of me, and I asked Dou where he was from. He said, "Rockford, Illinois." That whetted my curiosity even more, since I knew Norma was from Rockford and had taught in the schools there. I did not tell Dou that I knew anything about Rockford, but when I had the opportunity I called Norma and told her about him. I don't recall his last name now, but Norma knew his family well, and he had been one of her students.
A few days later, we had a lot of rain, and the men wanted to go into town. Dad took them in , and all came back to the house early in the afternoon except Dou. Late that evening, he came sauntering in and, to our disgust, he had been drinking quite heavily. The next day it was still raining quite heavily, and when Dou came down for breakfast I noticed that something was radically wrong. As I was quite alarmed about him, I called the other men to come to the kitchen. He had developed delirium tremors, and needed help. One of the men knew just what to do – he gave Dou several cups of hot milk, got him quiet, and put him to bed.
Late that afternoon, Dou came downstairs, and said he wanted to leave. Then Dad took over, telling him that we knew who he was and that we had contacted his parents in Rockford. They wanted him to come home, and he was willing to go. Dad and one of the other helpers took him to Waupaca, and saw that he boarded a train for Rockford and home. I have often wondered whatever became of him.
Winter, 1906 – the fall crops are all in, apples picked and packed in barrels, vegetables and fruit canned – and now for the long, winter days. There were only Dad, Walter, a cousin August Larson, and I at home that winter. But I stayed busy – after doing all the household and cooking chores, I did a lot of reading. And I looked forward to the day when I could go back to school – but when? At that point in time, it looked hopeless.
Walter – age 19 - graduated from high school in June 1907, but then had a recurrence of the lung involvement that he had in his first year of high school. The doctor advised going west, so he and Almo – age 22 – decided to go out to the state of Washington. That left me alone with Dad and August Larson. That summer was a very difficult one for me, but what could I do? And so another year went by. As the end of the summer of 1908 approached, there appeared little hope of returning to school.
But strange things can happen to open the door, if one is patient and has faith. In July, Dad had gone with Fred to see about some farm land near Boyceville, Wisconsin; and August and I were left to take care of the farm. Dad didn't want me to stay alone in the house with August, so he asked Mary Olson, a near neighbor and spinster, to come and stay nights with me. Have you ever lived in the country during a terrible electric storm? Well, we had one the first night Mary was with me. At about nine o'clock, there was a loud rap on the front door and Oliver Anderson called to me, "Is Mary there?" Lightning had struck her home, and it burned completely to the ground. Mary was left homeless, and had lost everything she had.
This tragic circumstance provided an opportunity I had hoped for. Mary was offered a home with us, and that made it possible for me to go back to school. So to Waupaca High School I went in the Fall of 1908. I secured permission from the Board of Education to go through in three years. Thus I would graduate only one year behind the class that I had been with since the fifth grade.
In the Spring of 1910, everything was going well for me until one day, when Dad came to me and said he wanted me to take a trip immediately to South Dakota. My sister Edith was pregnant again, and he was worried that there was no one to help her. So, at 18 years of age, I went there by train by myself. When I got to the station nearest her home, there was no one there to meet me, so I took a room at the hotel next to the station. As I was eating breakfast the next morning, trying to figure out how to get to Edith's house, a gentleman engaged me in conversation and told me that he was a traveling salesman and that he was going by the place where Edith lived. He offered me a ride in the horse-drawn wagon that he used for traveling from town to town. And that is how I ended up at Edith's, where I stayed a short time to help after the birth of her fifth child on March 8th.
June 1911 meant a great deal to me – not only that I finished high school, but also that three very trying years were past. It was not easy to travel three miles to school and back every day – rain or shine or snow. Spring and Fall, weather permitting, I rode my bicycle. Sometimes, I drove with horse and buggy, but often in Winter, it was with horse and cutter, or Dad would take me with a team of horses and big sleigh if the roads were drifted with deep snow. But when I look back on those three years, they were very meaningful to me. They were stepping stones for a very eventful life later on.
Also, in 1911, Dad – at age 60 – became very restless. The work on the farm was becoming too much for him, and help was hard to get. I, too, was getting restless – I could see no future for me, staying there on the farm. So Dad decided to sell the "home place," as it was often called. But, of course, he had a deep feeling for the home and farm, because of the many years he and the family had labored there to build it up to a lovely place. What should he do? There was no son at home to take over. Arthur was then the owner of two farms. Edith was in South Dakota with her large family of nine children, and Dad did not want Edith and Clarence to come here. Almo and Walter were settled in Spokane, Washington, and I definitely could not and would not take over. After much consultation with Arthur and me, Dad decided to offer the home to one of the boys. Walter announced that he was entering the University of Pittsburgh that September, so it was either Arthur or Almo. After much consideration and dickering, Almo decided that he and his wife Emma – whom he had married in Spokane – would come in the Spring of 1912. They purchased the farm complete, and Dad was to have his home there as long as he lived.
I was supposed to enter the University of Wisconsin in the Fall of 1912, but it didn't quite work out that way. So many things happened over the summer. Dad went to South Dakota to visit Edith, and then on to Miles City, Montana to visit his half-brother – Sven Larson Freeburg – whom he had not seen in years. I accompanied Dad as far as St. Paul, and spent several weeks in St. Paul and Minneapolis, visiting relatives there. When I came home in July, I was stricken with a severe case of mumps and, at the same time, Emma was in bed following the still-birth of their first child. We had two nurses in the house at the same time – one downstairs and one upstairs.
It was then that I made up my mind not to go to Madison to the University of Wisconsin, but would put in my application for entrance to the Illinois Training School for Nurses in Chicago. I was accepted for entrance September 3rd. In the meantime, I had to tell Dad of my change in plans, so I wrote to him in Montana and explained what I planned to do. A telegram came back, post-haste, saying, "Don't leave until I come home." Well, you can guess the outcome when he came home. On September 3rd, I got on the train for Chicago, and said goodbye to the home place and all that it had meant to me for so long a time. There were deep misgivings on the part of the whole family to see me enter training at Cook County Hospital. Then, there were many things lacking for a young lady to train in a public hospital.
Upon arrival in Chicago, I hired a horse-drawn cab to take me to the Nurses' Home on Hanover Street. I was met at the door by one of the nurses, and ushered into a lovely "sitting room" to await further instructions. A Miss Van Alstine was sitting at the piano playing Dvorak's "Humoresque." When she finished, she came over and introduced herself to me and welcomed me. Then Mrs. Zangmaster came and ushered me into the office where I received my first instructions and assignments. There was a class of 50 probationers entering at this time. We were assigned rooms - sometimes three to a room. A Miss Bertha James from Utah and a girl from Kentucky - whose name I can't remember – shared a room with me to begin with. (I want to say here that Bertha was my roommate for 2 1/2 years at County Hospital and then for 2 years in France.)
On September 5th, we were all indoctrinated, and assigned to classes for the first three weeks – before we could go into the hospital. Our instructions consisted of learning how to make beds, care for patients in bed, how to set up trays, etc. We also had to purchase several books for regular class work that continued all during the three years' training. We were then taken in small groups on tours of many sections of the hospital, to familiarize us with what lay in store once we were given hospital duty. Our probation period was for three months. Then we were examined to determine if we could go on, or be dismissed as not suitable to go on. None of the 50 who entered that September were sent home.
I was assigned to help in Children's Hospital, which pleased me very much. The regular nurses were all especially nice to us "rookies." However, my stay there was short-lived – after only two days, I was stricken with diphtheria and taken to an isolation ward. (Several other nurses were in there with the same, as there was a mild epidemic at that time.) I must have had a severe case, because I was given several doses of anti-toxin. Only after six weeks was I told I could leave the isolation ward and return to the nurses' home – Margaret Lawrence – to continue recuperation. After another 10 days, I was permitted to go home for a week. Dad and the family urged me to stay home, and later go to the University of Wisconsin, but I said no. I wanted to go back to I.T.S., so back I went.
Feeling fine, I went back on duty at the hospital, but only for a short time as again illness struck. This time, it was a virulent ear infection, resulting in a mastoid operation on Christmas Eve, 1912.
[This is the end of the hand-written autobiography that Freeda Larson wrote in 1973. She never got around to finishing the story of her days at the Illinois Training School for Nurses. Suffice to say, she completed her training. The story of how her future husband – Robert Ash Lewis – traveled to Chicago in 1913 and met her while she was in training is covered in detail in his autobiography.]
[Some information included in the above was not present in her write-up. The additions have come from two main sources – verbal stories related by Freeda in later years, and excerpts from letters written to her by her brother Arthur.]
The next chapter in Freeda Larson's life – her service as an Army nurse in World War I – has been prepared from the notes she made for a talk she gave to the Rossmoor Woman's Club at Leisure World, Silver Spring, Maryland, in 1975.
---